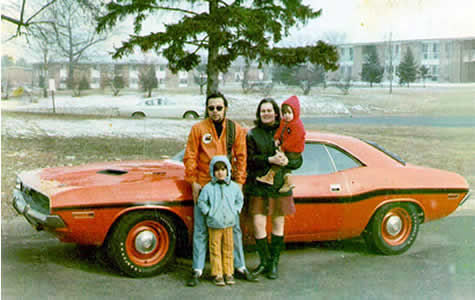 This website is dedicated to sharing the story of EL HEMI, the 1970 Dodge Hemi Challenger R/T that has been in the Escalante family for nearly years, since its purchase new in Detroit in December 1969.
EL HEMI began life as the dream car of a hard-working man from Venezuela, newly arrived in the United States with his young family. Throughout its life, EL HEMI saw duty both in the US and in Venezuela as a family car, commuter car, weekend racer, and frequent street terror!
Sadly, parts availability problems in Venezuela kept the car in storage for most of its life where it was allowed to deteriorate. EL HEMI sat silent, but not forgotten, for many years. It has been the life-long dreams of Juan and Gus, the sons of original owner Jose Escalante, to restore EL HEMI back to its original glory.
The Escalante family is pleased to present the details and images of this great car for everyone to enjoy. Come inside for the story of this famous Hemi Orange Dodge Challenger, known in Venezuela and throughout the Mopar world as ---
EL HEMI !