The Restoration of El Hemi
El Hemi underwent a complete "OE Modified" restoration under the skillful hands of Rick Kreuziger, RestoRick. Rick is well known for his high-caliber fabrication, metalworking, and painting skills, and for the last couple decades has earned several Gold awards at the Mopar Nationals OE-Certified level for his meticulous Mopar restorations. Rick's component restoration, body and paint work, and turn-key restorations have repeatedly been featured in many Mopar magazines over the years. Rick's experience and expertise was exactly what Gus and Juan Escalante sought when looking for the place to restore their father's treasured car.
Nearly all aspects of the car was carefully restored and returned to OE concours standards, except for a few options and aftermarket pieces that Jose Escalante added in the very early days of El Hemi. This OE Modified restoration approach replicates El Hemi as it was in it's glory, dominating the street racing scene in the Detroit area in the early 70s. The restoration was completed and El Hemi made its debut in Building T at the 2005 Chryslers at Carlisle show.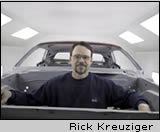 "I considered it an honor for the opportunity to do the car. I really enjoy doing cars with strong sentimental value. I think these cars are like a family heirloom to the people. There's nothing more rewarding to me than seeing the look in the customer's eyes as their memories come back to life.
El Hemi was a fairly clean car, rust-wise. Where the real challenge came was with collision damage and economy repairs done in the past. The car had a hard life and the body showed it. On one of Juan's visits, his father pointed to the replaced drive shaft and remarked in broken English, "6000 rpm...let clutch out...not take it!!"
Not to fear, though, El Hemi is back. Back as a standout car with a story to tell!"
Restoration Photos