Scale Model of El Hemi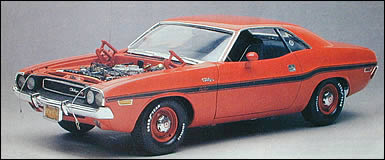 Juan Escalante had long prepared for the day that EL HEMI would emerge newly reborn from Restorations by Rick Kreuziger of Lake Mills, Wisconsin. About years ago, in a labor of love lasting for hundreds of hours, Juan rendered an exact replica of his father's EL HEMI at 1/24th scale. This work was meticulously crafted from parts from a number of model car kits as well as custom-made, hand-built pieces and assemblies. The entire effort mirrors the exacting detail and precision required for the full restoration that EL HEMI underwent at the hands of Rick Kreuziger.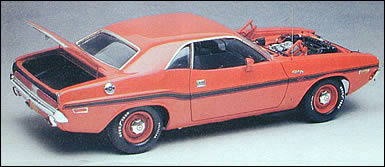 Juan's model car undertaking began with a Monogram 1970 Challenger T/A kit. In order to transform a T/A Challenger into a Hemi R/T, many modifications were required. On the outside were various body panel replacements, including substitution of an R/T hood and installation of the correct front valance panel. The front valance panel was hand worked and scribed onto the body by Juan, and then the bumper guards were added. He also reworked the rear valance panel to incorporate the correct bumper guards and exhaust cutouts. The bumpers themselves were sent out for chrome re-plating! Once the body panels were complete, they were primed and spray-painted that distinctive Hemi Orange.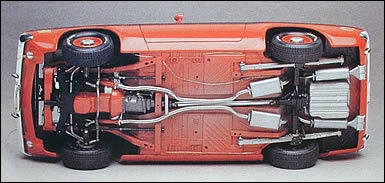 Juan put just as much care into the chassis as he did with the bodywork. His scale model of EL HEMI includes a Dana rear end, custom-made shocks, steel 450 wheels, and dog dish hubcaps.
If you look inside EL HEMI, you will see fine details such as a Rallye dash with speaker grilles, rear window cranks, a dome light, seat belts, and an open glove box. Open the rear deck lid and see an accurately scaled, correct trunk mat. All interior parts are either flat black or semi-gloss black, just as they would be on EL HEMI.

For a true Mopar devotee, the most interesting aspect of this mini project car would be the engine and drivetrain. A set of machined aluminum spark plugs, a machined aluminum pulley, all belts and wiring, and the linkages were added to the Hemi engine from a '71 Cuda kit. The valve train was built completely from scratch and is visible on the driver's side of the car. The engine itself is Chrysler Hemi Orange and the other engine and drive train components are either aluminum colored or stainless steel.
All in all, this car is a stunning replica of the real thing!